By CLAY NEELY | Jun. 06, 2019 – 2:59 PM
When it comes to cardiac arrest, seconds matter.
For one local man, seconds provided by two deputies made a life-changing difference.
Coweta deputies Charlie Hall and Stacy Beckom were honored by Piedmont Newnan Hospital as part of the hospital's First Friday Heroes program, held Wednesday at the sheriff's office.
On April 11, Hall responded to a 911 call in Sharpsburg regarding several cows loose from a nearby pasture. As the cow's owner and Hall got the last cow wrangled in, the man suddenly collapsed, falling to the ground with no pulse and in apparent cardiac arrest.
After calling for medical help, Hall began performing CPR on the side of the road until Beckom arrived to assist. The two men took turns performing CPR until personnel from Coweta County Fire Rescue arrived and transported the man to Piedmont Newnan Hospital.
The victim was ultimately transferred to Piedmont Atlanta and was determined to have triple vessel coronary angioplasty.
After a 16-day critical care journey, the man was sent home. He recently underwent successful open-heart surgery, according to Vicki Kaiser, executive director of oncology, support services and community affairs with Piedmont Newnan Hospital.
"The life-saving efforts by deputies Hall and Beckom were critical to the survival of this patient during a medical emergency," Kaiser said.  "Their quick response and administering of CPR saved this man's life."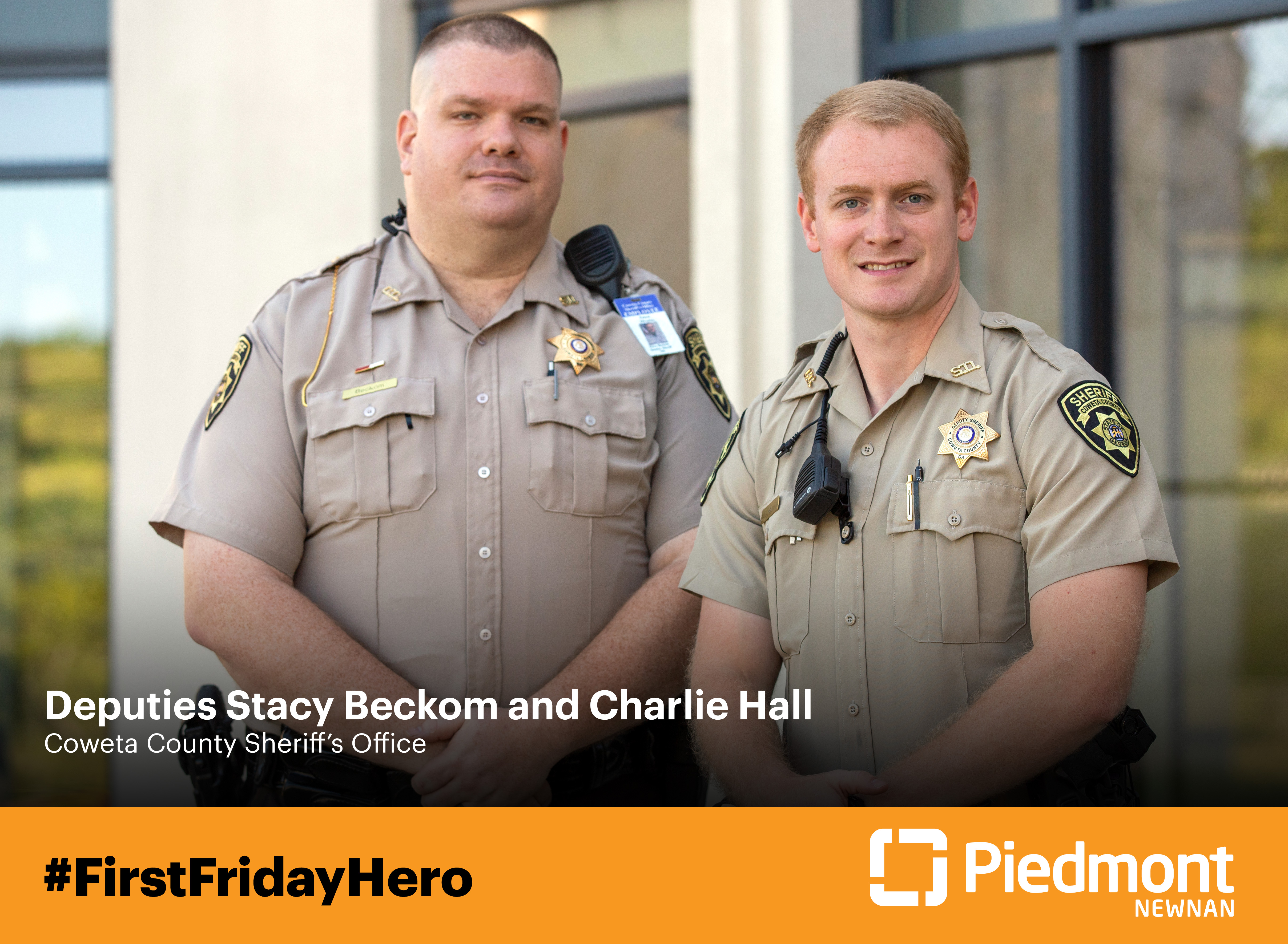 The man who revived the life saving assistance from Beckom also turned out to be his neighbor.
"We're happy to report he's back home and resting," Beckom said.
According to the American Heart Association, some 350,000 cardiac arrest cases occur outside of a hospital each year.
For those victims, their survival rate is less than 12 percent. However, those who receive CPR see their chances for survival doubled, if not tripled.
Both deputies were presented with certificates of commendation from the hospital for going above and beyond the call of duty, along with a  glass photo frame with their photos inside printed with the First Friday Hero emblem and a copy of the poster.
The First Friday Hero program began in April 2019 and recognizes first responders on a monthly basis who go above and beyond the call of duty.
"Their line of work is often a thankless one and we want to make sure the community is aware of our local heroes and all they do to make Coweta and our surrounding communities a better and safer place," Kaiser said.
Representatives from the sheriff's office thanked hospital representatives for the acknowledgment and recognition of first responders.
Major Mark Fenninger said while the sheriff's office is proud to receive the accolades, the recognition should be shared with Coweta County Fire Rescue, who provides the majority of deputies' life-saving training.
"They're the ones who pushed for us to get that training many years ago and have helped us get to where we are today," Fenninger said, "Our officers always want to help and don't want to sit there when something bad is happening."
To learn more about hands-only CPR, visit www.heart.org/handsonlycpr .