By THE NEWNAN TIMES-HERALD | Aug. 30, 2019 – 4:41 PM
---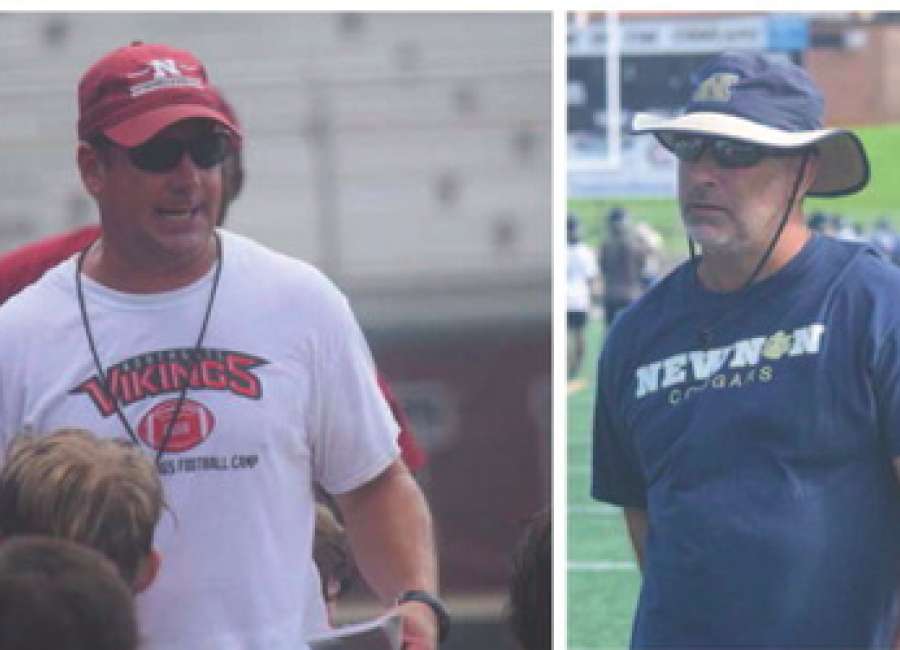 Here look at key games involving Coweta County High School football teams as they head into the second week of the high school season.
Newnan Cougars (0-1) at Northgate Vikings (0-0)
Tonight, 7:30 p.m. Henry Seldon Field Coaches: Newnan-Chip Walker (15 seasons, third at Newnan, 137-39-1). Northgate- Mike McDonald (13 seasons, second at Northgate, 81- 57).
Series Record: Newnan leads 3-0
Last Meeting: (2018): Newnan 44, Northgate 17
Last Week: Newnan lost to Chapel Hill 31-10. Northgate did not play
What to Know: It's just the fourth meeting between the two teams so it's probably too early to call it a rivalry, but there are plenty of storylines heading into tonight's contest.
Second-year Northgate coach Mike McDonald used to coach at Newnan. McDonald led the Vikings to the playoffs last season in his first year patrolling the sidelines with the Vikings. The Vikings bring back second-year starting quarterback Isaac Corbitt. While many teams from around the state were opening the season last week, the Vikings were off. Newnan had the advantage of opening last week but fell on the road to Chapel Hill 31-10.
Omarion Florence had the lone touchdown for the Cougars and Sam Willems kicked a field goal and extra point.
East Coweta Indians at Carrollton Trojans
West Georgia University Tonight, 7:30 p.m. Coaches: East CowetaJohn Small (15 years, three years at East Coweta). Carrollton- Sean Calhoun (Fourseasons, 31-8).
Series Record: Carrollton leads 3-0
Last Meeting: (2018): Carrollton, East Coweta 27
Last Week: East Coweta lost to Mill Creek 38-6. Carrollton did not play.
What to Know: A year ago, the East Coweta Indians fell just short in their game against Carrollton, also played at West Georgia when a fourth-quarter comeback well just short.
Last Saturday at Mercedes-Benz Stadium, the Indians struggled in their season opener and scored just one time when Amaryon Moss scored on a 71-yard TD run late in the game.
In the season opener, Devin Gilband and Gabe Gray each saw time at quarterback. Chase Lewis had 12 tackles for the Indians.
Carrollton comes into its first game fresh off of last year's 10-3 record.
Brandon Marenco was the Trojans go-to guy out of the backfield a year ago, rushing for 944 yards and 14 TDs.
Luella Lions (0-1) at Trinity Christian Lions (1-0)
Tonight, 7:30 p.m. at Trinity Coaches: Luella-Jason Jackson (Three seasons, 4-16). Trinity ChristianKenny Dallas (14th overall, third at Trinity, 108-48).
Series Record: Trinity Leads 1-0.
Last Meeting: (2018) Trinity 16-0.
Last Week: Luella did not play. Trinity beat Northeast 15-13.
What to Know: A year ago in the battle of Cats, the Trinity Lions played just their second GHSA contest and in the process, pitched a shutout.
Trinity comes into the contest tonight with the advantage of playing their opener last week while this will be the first game of the season for Luella. Trinity won last week's game after David Dallas hooked up with brother Joshua Dallas on a 5-hard pass. David Dallas also ran for a 3-yard TD.
Maxwell Pope also kicked a 27-yard field goal.
Christan Hanson led the way with nine tackles on defense.
Heritage School Hawks (0-1) at Flint River Wildcats (0-1)
Tonight, 7:30 p.m. Woodbury Coaches: Heritage SchoolMiach Alba (third year, 16-7). Flint River-Bobby Smith (10th season, 85-32).
Series Record: Heritage leads 6-5.
Last Meeting: (2018) Heritage 41, Flint River 3
Last Week: Heritage didn't play. Flint River lost to Monsignor Catholic 40-7.
What to Know: After 11 meetings between the two teams, this GISA rivalry is about as close as you can get with the Hawks holding a one-game lead in the series. Heritage began its season two weeks ago in Montgomery, losing to a team with a similar sounding name.
Heritage Academy won the game 37-6.
However, the Hawks are ready to put that contest in the rearview mirror as the move into the GISA portion of their schedule tonight. Flint River will also try and shake off a season-opening loss. Heritage has won the last four meetings in the series.
Fullington Academy (0-1) at Central Christian (0-0)
Tonight, 7:30 at Central Christian Coaches: Fullington Academy- Lee Hamner. Central Christian-Evan Cooper
What to Know: Central Christian is now under the direction of first-year coach Evan Cooper who played at Michigan and in the NFL. It is just the second season of 11-man football for the Crusaders. A year Fullington Academy beat Central Christian 24-16.